Roots and Fruits: A Systemic Gathering
October 19, 2022 @ 6:00 pm

-

8:30 pm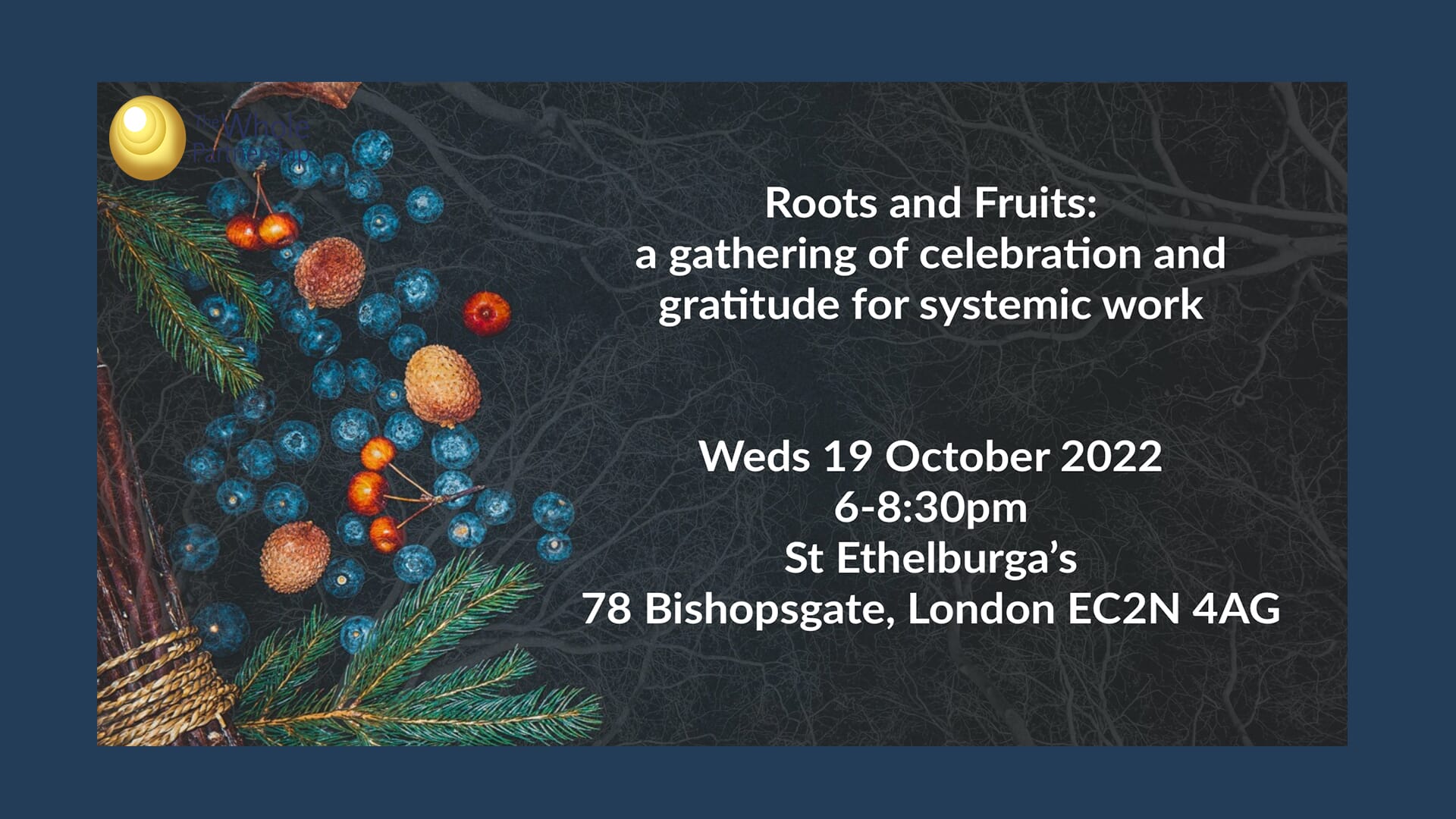 Welcome
It may not feel as if there's much to celebrate in the world right now, but please come and join us for Roots and Fruits, a gathering of celebration and gratitude for Systemic work, on Wednesday 19 October 2022 at 6-8:30pm at St Ethelburga's Centre for Peace and Reconciliation, 78 Bishopsgate, London EC2N 4AG.
We're running this at the end of the first day of Judith Hemming's Masterclass, which feels appropriate and honouring of her, as we're celebrating a few things:
• two decades of the original English speaking Practitioner programme known as COLPI, that Judith pioneered (delayed by Covid from 2020)
• TWP's 10th birthday
• systemic work in general, and all the amazing things that people in our community have done with it
What Will it Include?
We're still plotting the shape of the evening, but in addition to some celebratory drinks and a social, it will include the following:
• Master drummer Ayodele Scott (Baka Beyond) will drum for the ancestors
• there will be some kind of brief ritual element, to give us space to acknowledge what we have all received from this way of working
• no long, boring speeches by Judith or Ed (promise!)
• towards the end of the evening, we will drop some tunes, break the shackles off our feet, and dance (optional)!
Who can Come?
The gathering is obviously for all those in our Community, past and present, but open to all those interested in constellations work. It'll be lovely to see you!
Please book your free ticket below.